An Exclusive Offer For You
Picture Hanging Kit, Picture Frame Hanger Tool, 222 Pieces Heavy Duty Photo Hanger Accessories with Picture Hanging Wire, Hooks, Nails and Hanger Level
$19.99
Go to Amazon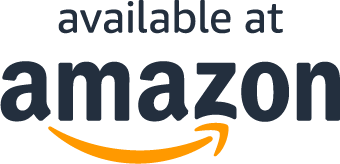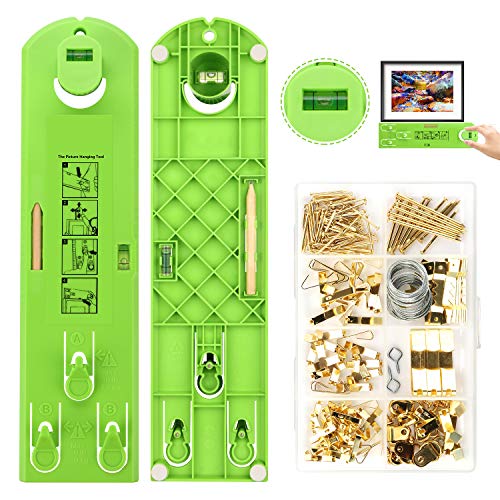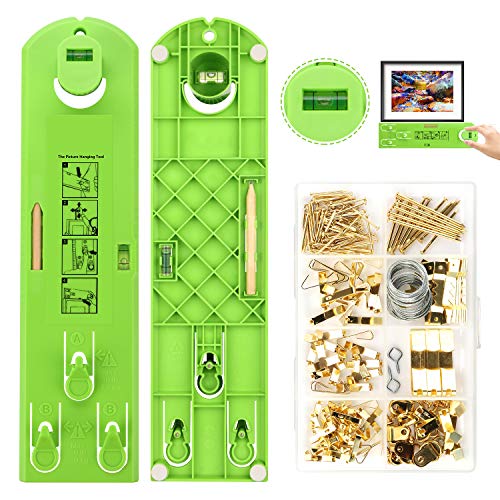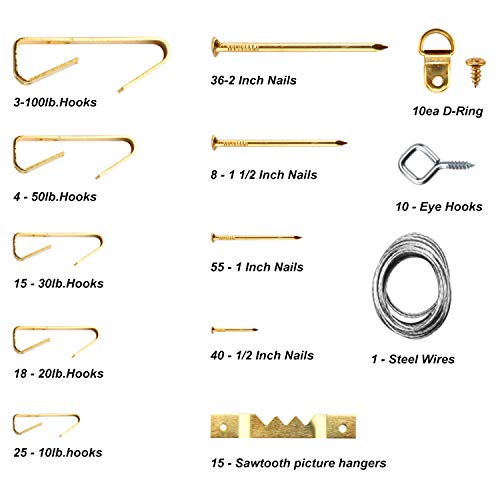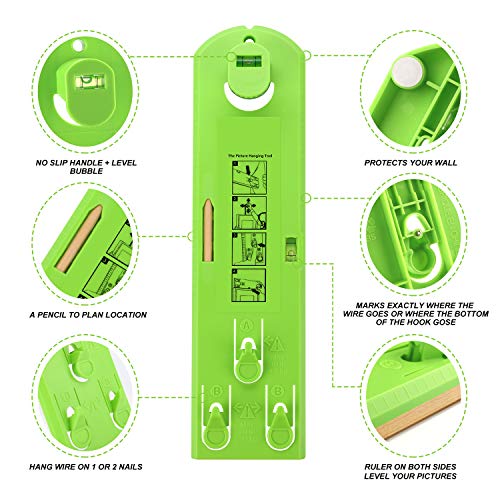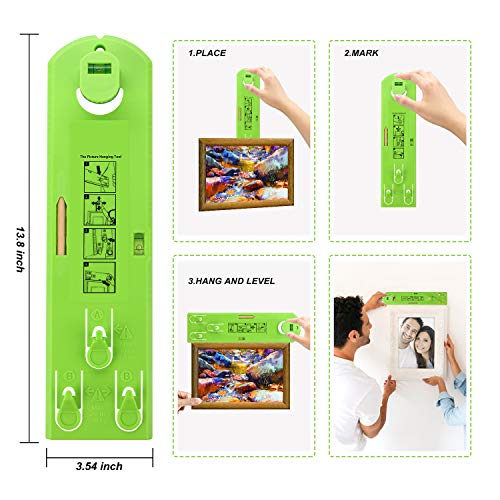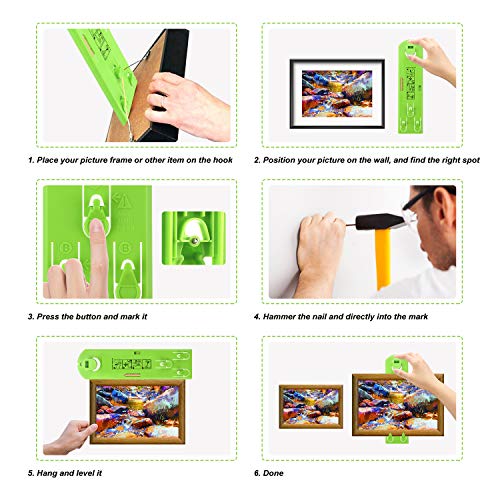 Go to Amazon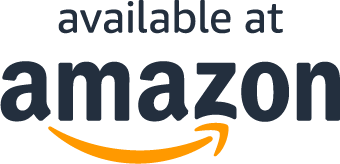 Read More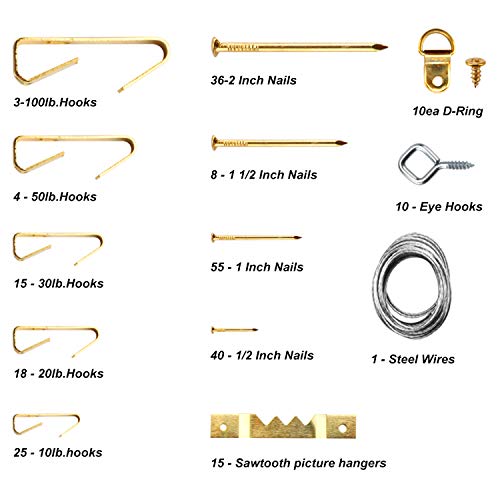 About the product
Make sure this fits by entering your model number.
EQUIPED WITH ALL PICTURE HANGING TOOLS: ONE hardware box with 221Pcs accessories + ONE green picture hanging level tool with a pencil. This picture hanging kit saves your time to locate everything you need each time you want to hang something on walls.
HANG EXACTLY AND FAST: Vertical & horizontal bubbles built in the levels ensure your pictures are not CROOKED. This marking (button) system can mark exactly where the wire goes, or where the bottom of the hook goes. A pencil is provided to help you better plan location. Picture hanging used to be a Time-Cousuming and Complicated job, but this hanger tool makes it quick and easy.
PERFECT FOR HANGING SMALL & BIG PICTURE: Our heavy duty picture hanger Hooks are rated at 10lb, 20lb, 30lb, 50lb, 100lbs. They are matched perfectly with the nails in the box, making it easy to hang pictures of different sizes on the wall.
ENHANCED STRENGTH AND SAFETY: Hardened steel core, angled nail design and notched hooks allow our picture hanging hardware to be combined well with the wall and won't make a big hole on it. So It's firmly and securely to hang pictures.
APPLICATION WIDELY: This set of picture hanger tool is perfect to hang pictures, frames, mirrors, clocks, plates, degree plaques. The level rule can also be used alone to measure accurately for installing other things, such as a TV bracket, switches sockets on the wall, kitchen & bathroom accessories. Don't wait, decorat your home now!
What Our Customers Are Saying
easy to use
love the way it helps hang pictures. You can hang picture on this frame, then hold against wall to spot picture location, press pin head, and then put hook in. great system
Just what you need to quickly and accurately hang a picture
I bought this great collection of hardware because my wife wanted me to hang some pictures and I did not have the parts I needed. The hardware is great - 122 pieces of the most-needed parts to hang pictures and such. The surprise was the unique level that accompanied the hardware. The included level makes it quick and easy to accurately place and hang a picture. I was able to properly position and hang a picture in less than 30 seconds. The level allows you to trial hang the picture and mark the exact place to put the hanger. This is a "must-have" for anyone who needs hanging hardware!
Easily Complete your Honey Do List
I've been hanging pictures for awhile and this make the process so much better! It's so easy to hang a picture and not guess where the nail goes. Once you have the spot where the picture goes simply push one of the green buttons to make the spot on the wall. It comes with all the necessary parts to hang pictures as well. The tools provides 2 levels on X and Y axis so whatever you're hanging will be spot on straight. Make your job simple and check this out!
Don't forget to account for the length of the hook from the nail that holds the hook on to the wall
I think the pin is supposed to make a dimple in the wall where the nail is supposed to go. If you just use a nail to hang the pic, it works fine.But if you put a nail where the dimple is (to attach a hook to the wall) the picture will end up hanging an inch too low.) So you need to take that into account when you use the dimple to position your nail and hook. Or use the dimple to position the bottom of your hook instead of your nail.Also Will need helper for heavier pics.
Great kit for hanging pictures
Perfect for hanging pictures . The green picture frame made hanging pictures sooo much easier ! Also this set came with everything I needed nails and hooks so no need to buy all the parts separate. Complete money safer and a good buy.
Very nice set.....
Very good set....the hanging tool makes it so easy to arrange a set of pictures in a balanced display. For me, it's an important tool to have in your "kitchen tool" drawer. The hanging accessories are well made......have hung large heavy pictures using the set and so far so good. Thank you.
Questions?
Does this include free shipping?