An Exclusive Offer For You
Coisum Back Sleeper Cervical Pillow - Memory Foam Pillow for Neck and Shoulder Pain Relief - Orthopedic Contour Ergonomic Pillow for Neck Support with Breathable Cover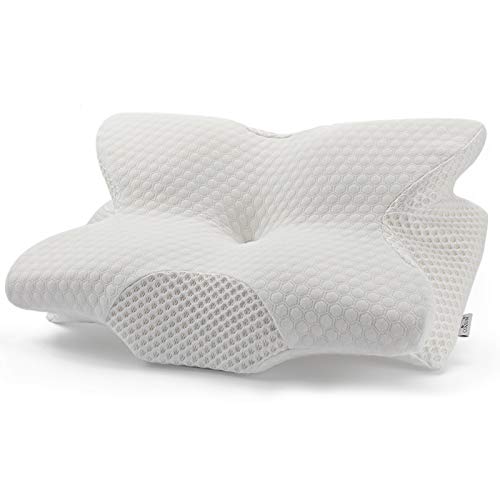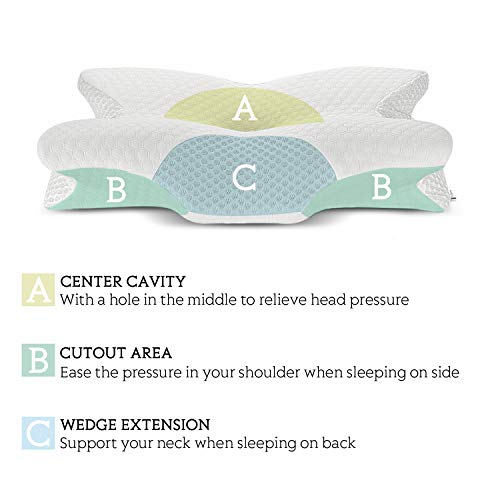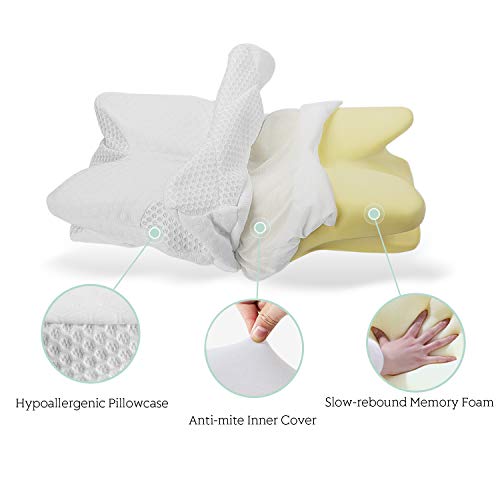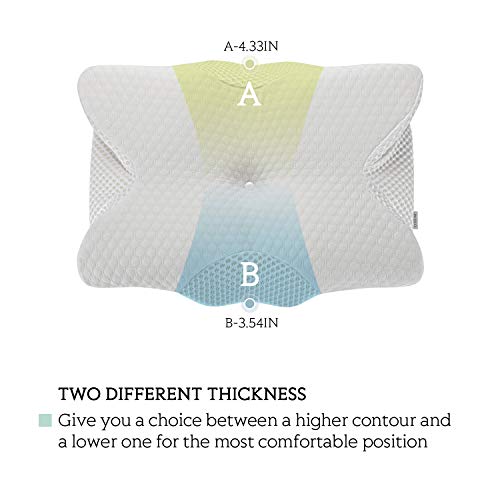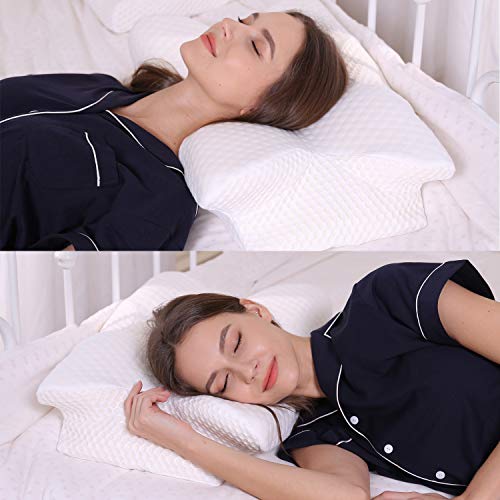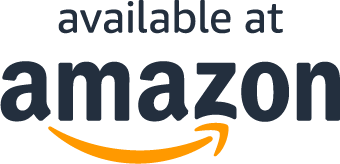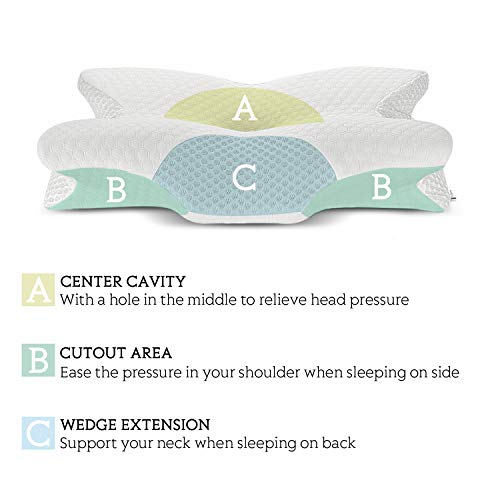 About the product
【KEEP YOU AWAY FROM WAKING UP WITH NECK & SHOULDER PAIN】Coisum Orthopedic Bed Pillow was made of 60 density high-quality memory foam to keep it FIRM ENOUGH to SUPPORT YOUR HEAD & NECK, so that keeps your neck properly aligned with the rest of your body. It's a perfect solution to the awful crooked neck and sore shoulder you sometimes get when sleeping with the traditional soft pillow.
【FOR BACK SLEEPERS & SMALLER SIZE SIDE SLEEPERS】The hole-inside was designed to cradle your head for optimal support, it will reduce the pressure of the back of skull when you sleep on back. When you sleep on side, please sleep on one of the wings, allowing the cutout under the wing fit the curve of your shoulder, and support your head.
【HIGH QUALITY SLOW REBOUND INNER MEMORY FOAM】 Coisum foam pillow is made of High-quality Memory Foam, it has a medium hardness. The memory foam has a feature of temperature sensing, making the pillow FITS YOUR NECK PERFECTLY. This pillow has 2 different contour heights on either sides, so you can choose whichever works better for you.
【BREATHABLE PILLOW CASE】The skin-friendly pillowcase is removable and washable. A breathable surface lets air circulate to keep the pillow cool while you sleep.
【BEST HEALTH CARE GIFT】No harmful chemicals were used in memory foam. It offers a comfortable sleeping, and has a exquisite appearance, perfect for elderly, office workers, people who sits all day or who has a chronic cervical vertebra issue. It's a good present to show your care to somebody you love.
What Our Customers Are Saying
Great Pillow for Neck and Shoulder Pain Relief
Thank you for making the Coisum Back Sleeper Pillow available on Amazon. It was one of my best investments. For the past week, I was having severe neck pain and stiff neck sleeping with a soft pillow, then switched to a buckwheat pillow with no avail. Both resulted in equally painful neck and bad and painful nights of sleep. Yesterday, I received the Coisum pillow and used it immediately last night and had the best night I ever had in a week – no neck and shoulder pain! In fact, I was notoriously tossing and turning with the other pillows all night. I had a restful sleep by not tossing and turning as much with the new Coisum pillow as I pretty much stayed in one or two positions all night! Thank you for a wonderful pillow! If need be in the future, I would certainly by the Coisum pillow once again, but not for a while. I really like my new pillow and highly recommend it for anyone having neck and shoulder pain while sleeping.
This wonky thing is a pillow? YES! And a miraculous one at that!
I bought this pillow for my hubby after he began having neck pain every morning and throughout the day at work. He has sleep apnea so he tries to sleep on his back mostly but discomfort in his neck on his regular pillow was causing him to roll around all night which further disturbed his already difficult sleep. The first few nights he said it felt weird but comfy and took him that long to really get a good feel of it as far as which side to use the lower or the higher end. After a few nights he found the sweet side and in the weeks since he sleeps more soundly than I've seen him sleep in YEARS! Not only has this pillow relieved his neck pain but it keeps him comfortably on his back literally all night long. No more tossing and turning and dragging his CPAP hose from side to side which used to not only disturb his sleep but also would wake me and keep me up at nights. So thank you for this wonderful funky pillow because not only has it blessed my husband with a peaceful and comfortable nights sleep but it has also blessed me with a restful night where I can sleep soundly next to my completely still and comfy hubby. PS. Even the dog is grateful for the pillow because he always avoided my husbands side of the bed at night because he rolled around so much and now the pups can snuggle next to daddy knowing he won't get squashed in the middle of the night. Lol
This Miracle Pillow is a Must Have!
I've tried dozens of support pillows over the years and NOTHING compares to this! The price is unbelievable, the multiple levels of support in one pillow is amazing!Okay, one side is slightly higher for elevated comfort levels but both sides cradle your head, neck, cheek and chin! Yes, laying on my side, this pillow design cradles my cheek and chin while the middle still cradles my head and neck!I favor the lower side, as it situates perfectly under my neck and head when laying on my back or side. This pillow also supports my shoulders from unevenly shifting!It's mind blowing how this unusual shaped pillow design is perfect for laying on back, side or stomach. When laying on stomach or side, even my arms and hands rest comfortably on the outer concaved areas of this pillow!This pillow changed my life!To finally wake from sleep with ZERO NECK OR BACK DISCOMFORT after so many years of suffering and spending hundreds of dollars on other so called support pillows, makes this an extremely grateful pleasure!!! (Fits a standard size silk pillow case perfectly)
Pretty close to perfect
I've had this pillow for a few months now and although it looks awkward, it works well. The design is built to give you support which makes sense once you try it. The bottom of the pillow is flat, in case some of you wonder about the bottom. The top of the pillow seems to have two "settings". In one setting the neck support is more relaxed than the other. You just rotate the pillow 180 (not flip) and you'll feel the difference when you lay on it. I later realized that it's so that if you sleep on your side versus seeping on your back. When you sleep on your back you need a bit more support.The foam is sturdy, more so than what I expected. I thought it would be too soft and it wouldn't hold my neck, but it's not at all. It's not so hard that it hurts or would bother you, it's hard enough to provide support but has enough give to let you rest on it comfortably. I'm impressed with the foam quality and love my new pillow.The only negative I can say is that I'm used to flipping my old pillow when it gets warm at night, I can't do that with this one hahaha. It's not a deal breaker but thought I would mention it.I would love to get one that had the same neck support on both ends so I can rotate the pillow and still have the same support. The flexibility of sleeping on your side or back does help understand the design of this pillow.I would recommend anyone to try this pillow out. It's great and I have no regrets.
No more morning headaches!!
I have a bulging disc in my neck and this pillow holds my head and neck in the perfect position no matter which way I sleep.I'm no longer waking up with headaches or huge neck pain and I've stopped flipping, bunching or turning my pillow!
Worth every penny
I love this pillow. I am prone to headaches and migraines. This pillow has helped relief tension headaches that were created from bad neck support. I highly recommend this pillow as it has also relieved back pain. I would buy this pillow again. A little tip though it does take some time to get to use to but so worth it.
Questions?
Does this include free shipping?