An Exclusive Offer For You
Halloween Fog Machine with Lights - 3 Stage LED Lights with 12 Colors & Strobe Effect for Party Wedding Holiday Christmas - Fansteck 500W Upgraded Wireless Remote Potable Smoke Machine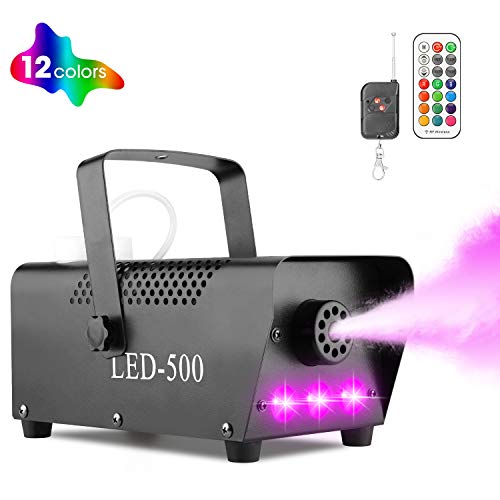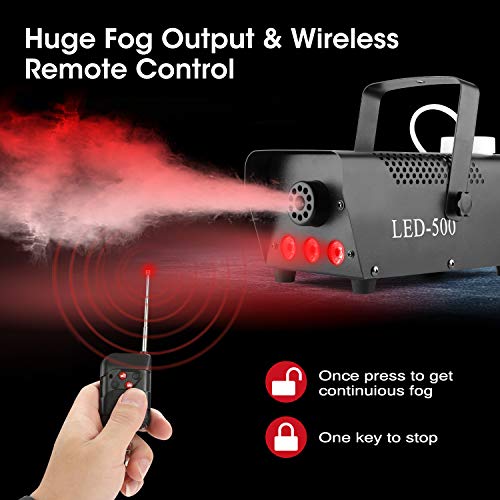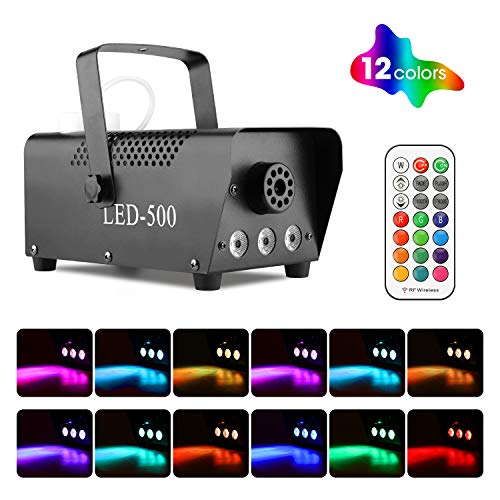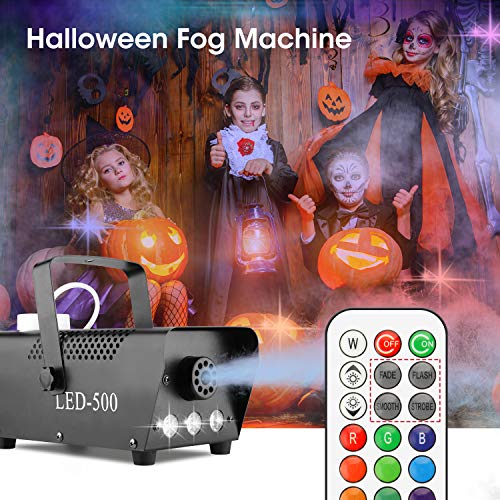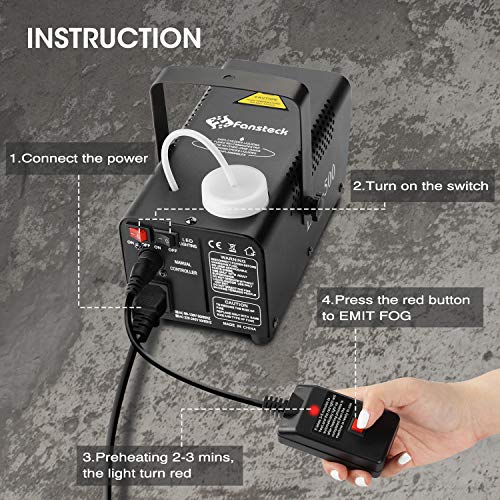 Go to Amazon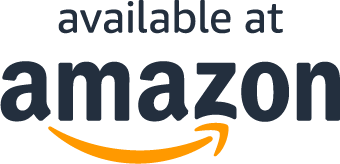 About the product
12 COLORS&STROBE EFFECT: The updated fog machine is equipped with 3 stage LED Lights to combine the fog, and there are 12 adjustable colors & 4 special effects include FADE/FLASH/SMOOTH/STROBE. It is perfect for enhancing atmosphere of holidays, parties, stages, weddings, live concerts, DJ and family gatherings, karaoke, etc.
WIRELESS REMOTE CONTROL: Supplied with a wireless remote handle for distant use, you can control your fog machine within a 30-meter radius, press remote button once to get continuous fog, and one key to stop. We also provide a LED remote for the three stage lights.
EFFECTIVE & HUGE OUTPUT: The 500W smoke machine can produce uniform, unscented fog very fast after 2-3 minutes of warming up. The fog output is around 2500 CFM (cubic feet per minute) and 3-5 m volume distance.
NON-TOXIC & BIG CAPACITY: FCC, CE and ROHS certified for safe non-toxic fog production; comes with a 300ml tank for long lasting fog production.
COMPACT ALUMINUM BODY & SAFE PROTECTION: Built from aluminum for better heat dissipation to ensure durability and long lifespan; Equipped with the fuse protection, once over load, the fuse protection will kick in and the machine will stop.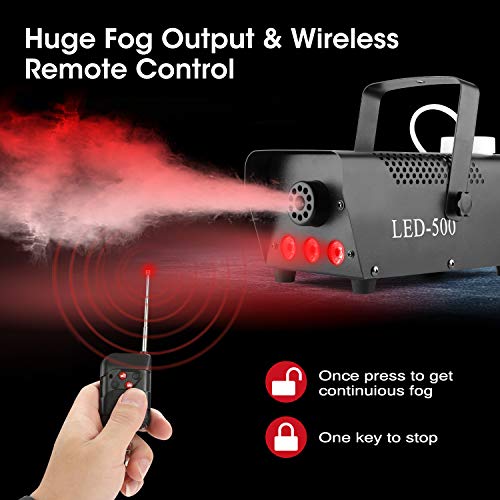 What Our Customers Are Saying
lots of cool smoke today
Bought this for a neighbor senior who was graduating and we were pitching in to do something fun to celebrate them. We did a small stand for our accomplished senior and did a short ceremony with social distancing. Used this after we handed them a fake diploma and played music.Keep in mindThe cord isn't very long so depending on where you are putting it, you may likely need a 3 prong extension cord too. It also doesn't vote with fog fluid. So you need to buy that separately too. Don't overfill either. Fill below cap. I only filled halfway as the smoke only ran for a short period of time. I didn't want to waste any fluid.RemoteDoes come with a remote to manage the functions. Handy and comes with batteries already. No need to buy those separately. I was standing at least 20 feet away and the remote still worked.Smoke feature is really good on this machine. It will flow out about 10 feet and create a good effect with light. It does king of pause after a blowing of smoke and then blows again shortly after. This repeats through the use.Value and PriceI would recommend. Really made the ceremony a lot of fun and was a cool effect. Our graduate was deginithrilled. Can use for parties and holidays now too, so definitely worth the price.Buy and have lots of fun
Works perfect
This product is great with the lights create a lot of really nice fog for Halloween especially with the high-density fog liquid it was awesome kids loved it
Holy smoke!
I bought this for a party last night and originally I had considered ordering two. I am glad I didn't because I didn't need to. This machine puts out plenty of fog and then some. It comes with two remote controls, turns all kinds of colors, and has 4 major special effects. The tank is semi transparent, so you can see when you need to add more fluid. Gone are the days of dry ice. This puppy works just fine to fog up a decent sized dance floor and doesn't leave behind any condensation, so there's no need to worry about your feet slipping while you dance. Warning, this does not come in a prime box. It comes in it's own box, so you may want to make a special request to Prime.
Grandioso
De los mejores artículos que he comprado. Muy divertido para una fiesta familiar. El líquido dur mucho
So impressive!!
I purchased this fog machine a few days before Halloween for a party and it was everything I needed it to be and more. I was surprised at how much smoke actually blew out of it. If you use it indoors it's enough smoke to fill up a 6,000 sqft home if you use it on your front porch it's enough smoke to fill the front of your house.
Large amount of fog production, with a nice assortment of lighting options.
Produces a large amount of fog quickly. The lights are nice and bright. Quickly filled a large interior space with a sense fog. LEDs light up the fog nicely. One tank of fog fluid lasts a long time! Very easy to operate, remotes worked well. Great value!
Questions?
Does this include free shipping?