An Exclusive Offer For You
Plantar Fasciitis Foot Massage Roller,Fansteck Muscle Massager for Back Pain,Deep Tissue Trigger Point Recovery, Spiky Balls for Relieving Pain and Promotion Blood Circulation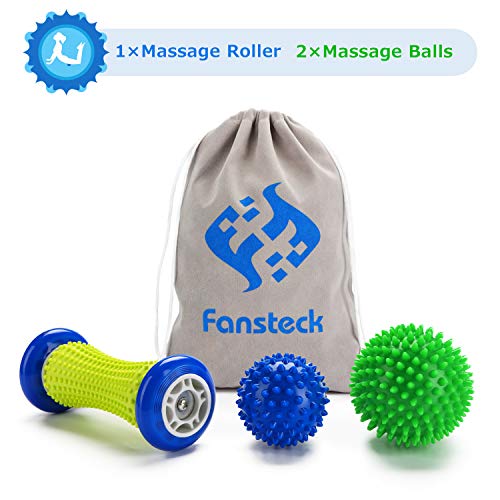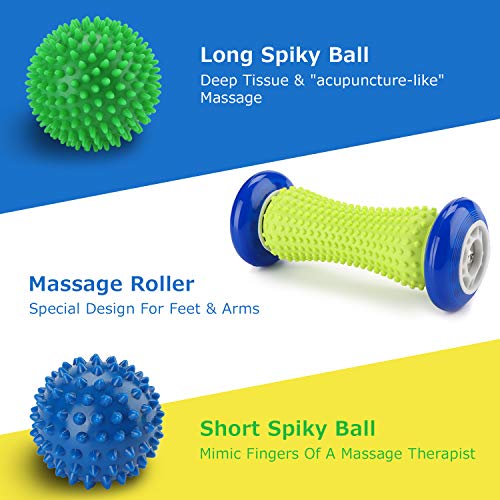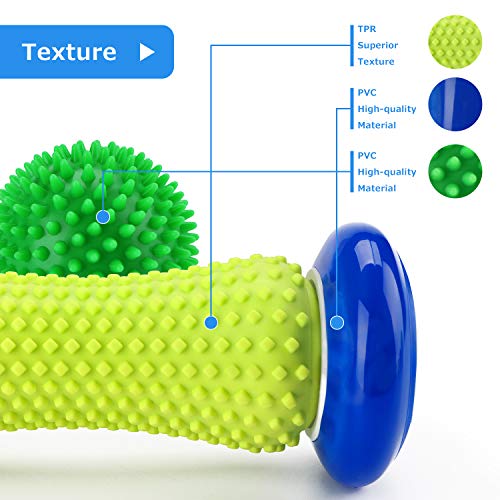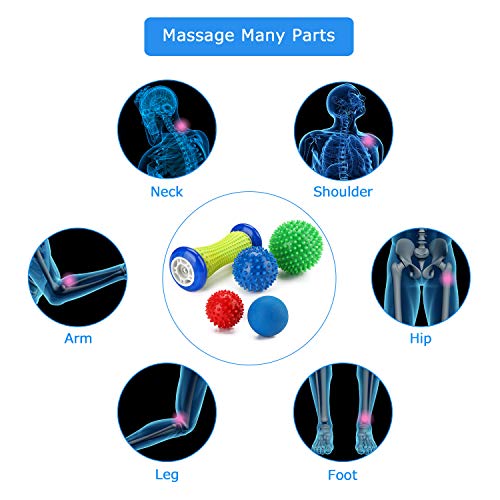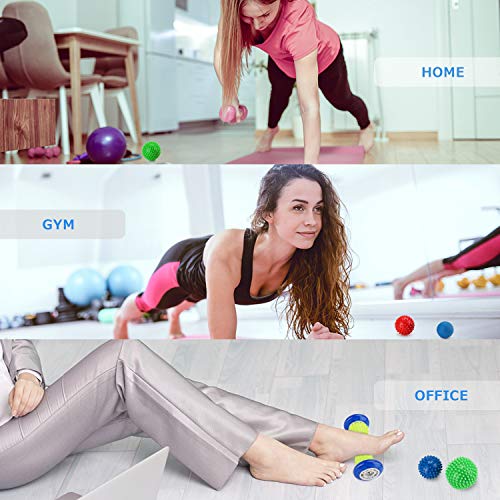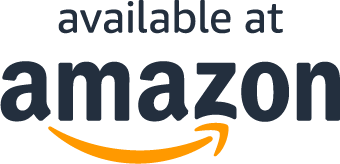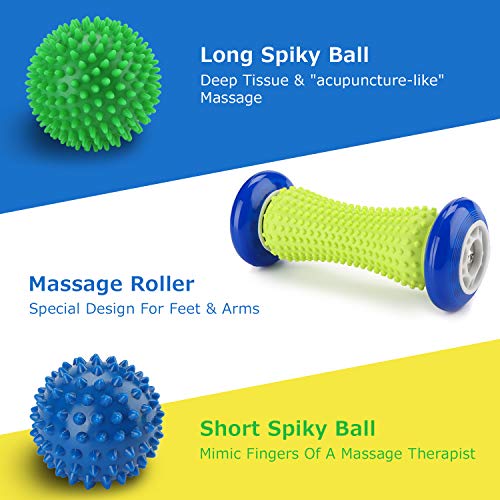 About the product
👍 SPECIAL DESIGN FOR FEET --- With hunderds of floating dots, the foot roller can make full contact with your feet and provides deep tissue massage treatment, which is a good way to comfort the nerves of tired feet, increase blood circulation, and eliminate muscle fatigue
👍 EASY SELF-MASSAGE --- The massage balls are designed to release tight and uncomfortable muscles, or relieve fasciitis, muscle soreness and foot pain. They are also helpful to increase blood circulation and boost metabolism
👍 SUPERIOR MATERIAL --- They are made of non-toxic, environmental friendly PVC and TPE material, insuring the skin-friendly, durable, easy -to-clean and odor-free use experience
👍 PORTABLE --- All small in size: balls' diameters are 3.5in and 2.7in, and the size of roller is 7x3x3in. It comes with a drawstring bag for convenient storage and taking along. You could take these massagers to many places such as gym, park, playground, hotel, classroom etc.
👍 WIDE USE --- This kit can be used by a variety of people, such as ballet dancers, teachers, field workers, nurses, athletes, children, runners, etc. The package comes with Foot Massage Roller x1, Big Spiky ballx1, Medium Spiky ballx1, Drawstring bagx1, 18-month worry-free warranty and friendly customer support. Please tell us soon if you have any problem | Our e-mail: eu-support@fansteck.com
What Our Customers Are Saying
Very helpful for plantar fasciitus
I've had plantar fasciitus for 6 months and it is agony.When I first saw my GP about this condition, she recommended rolling my foot up and down on a tennis ball, amongst other exercises, and it does help. My physio agrees that this is a good way of stretching the tendon.I bought this set because I thought the balls would be better than a tennis ball. Most of the time they are. The balls are very firm (I expected them to be more squashy). The small spikes are very firm, and some days they can hurt. On those days I wear a sock, and then it is fine. They give my foot a massage, as well as helping to stretch the tendon. I also use them on my good foot, just for the massage. They do not hurt my good foot. The roller feels nice, more so than feeling like it helps.I am very pleased with is set of three, that comes in a little storage sack.
Seems a very highly rated set!
I chose this set as it has just mad amounts of high reviews. It's a very good set. The balls are very firm so not for the faint hearted! I've found they're best to be used against a hard floor or wall rather than hands to get the best benefit. If you do want to use by hand then I'd advise wearing gloves or using a towel as a buffer in between. The roller is designed for underfoot for plantar fasciitis sufferers. Personally I find a cold bottle of water works best for that & this is spot on for quads, calves & shins! A good little set 🙂
Good set of rollers
I suffer from mild plantar fasciitis, and have sometimes pain in my foot because of that. So was on the lookout for something that can help with that and also help with some massage and acupuncture therapy overall. The foot roller and massage balls in this set are stiff and hard, which is just what is required for a good massage and providing a relaxing feeling - you can adjust the pressure of applying for a good effect. Also, the colours are very vibrant and overall the price is not too high as well, making this a good buy. Will recommend
Excellent Quality
I had a very painful attack of Plantar Fasciitis. It covered the whole foot and was much worse than I had ever experienced before. I treated it on 2 fronts, I fitted appropriate insoles and used this foot massage kit. Although it took about a week to get to a totally pain free condition there was a progressive improvement virtually straight away. This massage kit is very well designed and made and should last a life time.
Nice set of physio roller / spiky balls
My friend suffers from plantar fasciitis so purchased this as a gift. The foot massage rolls well and it sturdy / should last a long time. He's advised it's help relieve some pain but you need to keep to a regular workout/ routine for it to be if any benefit. The 2 different sized spiky balls are useful for back / neck massages. The drawstring bag is great to store them, however the string on it seems a bit thin & think it will degrade/break pretty soon.Overall, this is a good set if your physio has recommended them!
Excellent help for Plantar Faciitis
I keep the balls at work and the roller at home. The balls are super stiff and leave little tiny prickle marks on my skin that tingle for a second before fading. The roller ball is heaven. Seriously, if I'd known how good this would make my feet feel after a day in heels (or flats, or orthopedics) I would have been sneaking this into dance clubs years ago. I use it for a few minutes in the morning when I wake up and then again when I get home. My feet feel better, my flexibility is good, and now I have something to do while I convince myself I have to stand up when the alarm goes off.
Questions?
Does this include free shipping?