Limited ITEMS ORDER SOON
LED Strip Lights TV Backlight, APP Control Color Changing LED Strip, RGB Bias Lighting USB Powered for TV, Bed Room, Sync to Music for Party, Android/iOS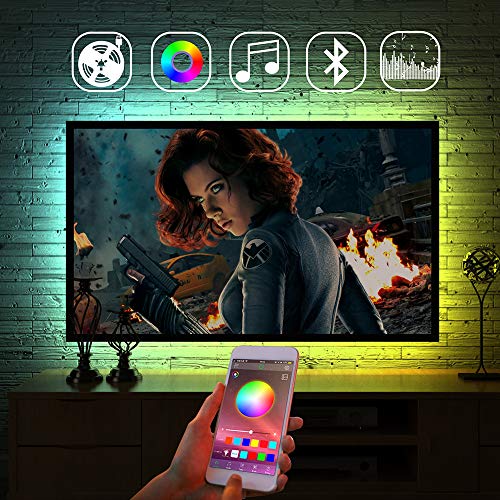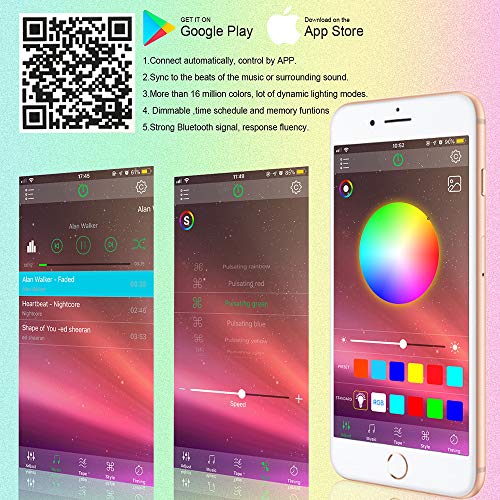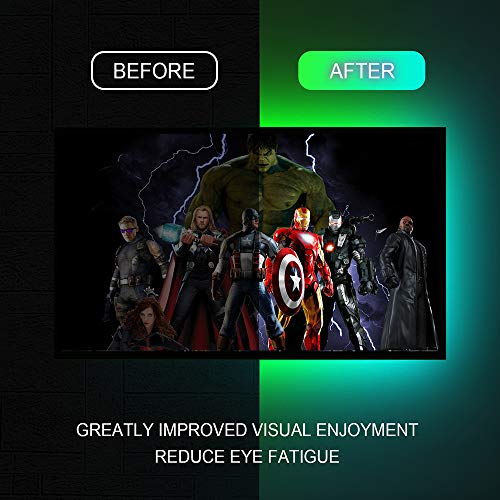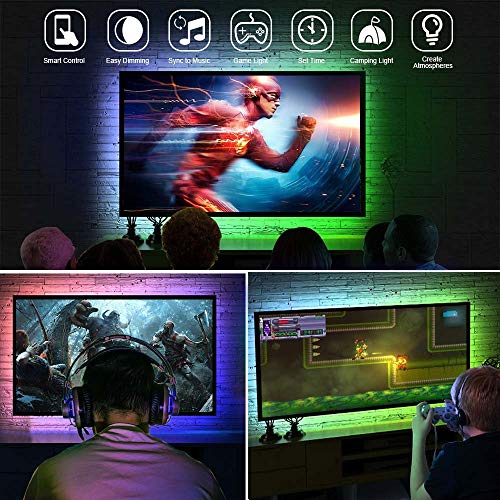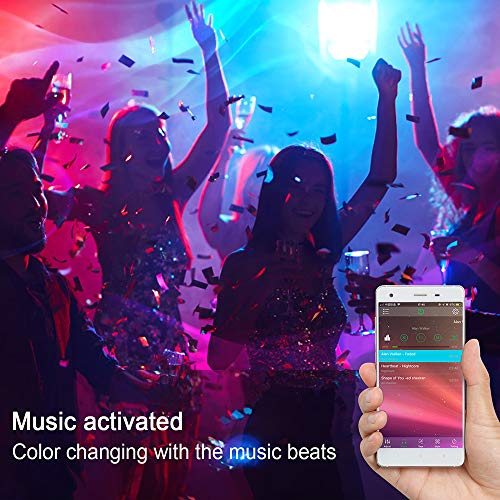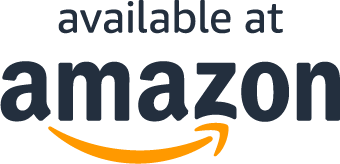 About the product
⭐SPECIAL FEATURES. This Led tape light has 16 million static colors and 20 dynamic modes. The variety of settings allows you to create all kinds of ambiances at will. S-shape PCB can be bent at will that gives it more installation options, you can install it in any shape. The led lighting can sync with the beats of music, ignite the ambience of your party. More features like time schedule, dimmable and memory function.
⭐SMOOTH CONTROL. There is a strong Bluetooth controller in the TV LED backlight. Download the APP by scan the QR code or search for Happy Lighting with your Android or IOS cell phone, power the strip lights, they will connect automatically. The upgrade Bluetooth chip will give a strong and stable signal, brings a smooth control.
⭐SUPER EASY INSTALL. Instead of dividing the LED light strip into four segments, this one is designed as a whole, that makes it super easy to install, no corner wires, no need to cut it and any connectors. S-shape PCB perfectly solves the installation problem at the corner. Super sticky 3M thickness sponge adhesive allows you attach the strip lights to any surface.
⭐WIDE APPLICATION. You can install USB led light strip behind your TV as a TV accessories, to improve visual enjoyment and reduce eye fatigue, or decorate your bed room, living room, kitchen to make your home more vivid and attractive. It is the best choice for indoor lighting decoration.
⭐100% Satisfaction Warranty. Each part of the LED light strip kit is made of premium quality material, so we can promise a 3-month free replacement or refund and 1-year warranty.
What Our Customers Are Saying
Awesome Service - Solid Product
These lights are great in the dark. I've had them for a few weeks now and they added that needed glow I've been missing. My only issue is when I turn off the TV the lights turn back on. I reached out to support about this and they told me the solution was to connect the lights to a wall outlet instead of the TV. I told them, it wouldn't reach so they sent me a second set of lights free of charge. I really appreciate the service more than anything here. Really good customer service is hard to find and these guys delivered. For that reason, I am leaving this as 5 stars. Thanks guys.
These are the best for decorating!
 These lights are the best!They even made my Sushi bar look even better!The app features can change the color ,mode ,and music!I recommend this if you're looking for LED strip lights.
Well designed for different size TV
I bought these lights strips for the back ofmy TV, they give real ambiance to the room with the different colors.it is so nice. Remote works well on issues with functions ,i did place the receiver as close as I could to the outside of TV .so far all is well.
Thinner = easy to bend; color more brighter.
Controlling by the app. via Bluetooth connection made the light easy to control than ever. In stead of getting additional remote control, you can control it by your phone. It's so convenience and make your life easier. Thank you.
Pretty LED strip lights worth buying
The operation manual was easy to follow. The package is small but very easy to install. Just remove the tap at the back you can easily tap this strip lights to your TV or table. The sponge was very sticky. It's very tight after installed.The blue tooth was so much faster to connect, compare to my blue tooth earphone. The app only takes 10 MB space on your phone. It's very friendly and easy to use. When the lights shining with the music is really fantastic. My family likes it. It's definitely a Pretty LED strip lights worth buying. 
mood setter lights
These LEDs are bright and give a nice soft ring of illumination around your TV. My TV is a 40 inch but I installed the LED's as if it was a 50 or 60 inch. This comes with an app that can only be installed using the QR code provided.you can change the colors, set it to rotate through colors, play with music on your phone. There's plenty of choices to make you happy. And an awesome mood setter.
Questions?
Does this include free shipping?