An Exclusive Offer For You
OVÉ Large Laptop Tote Bag for Women Fits 15.6 Inch Computer Black Ladies Work Tote Bag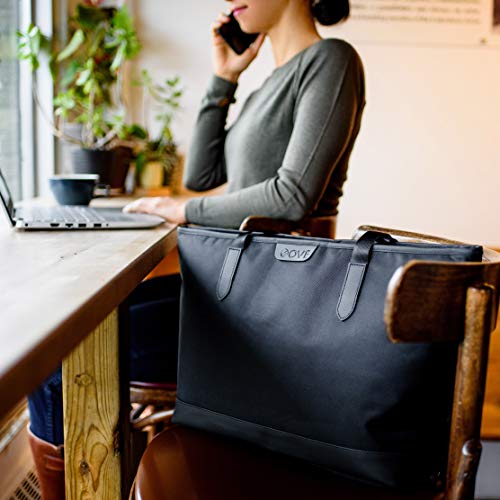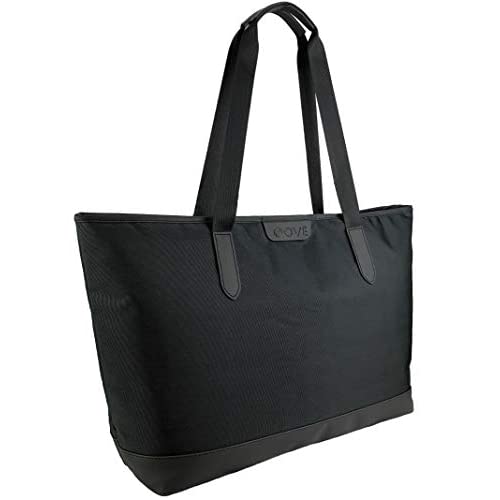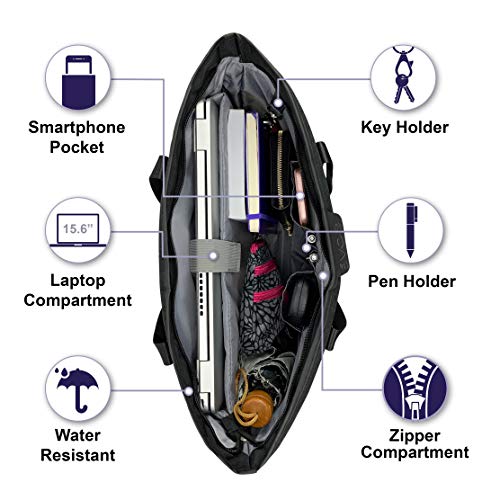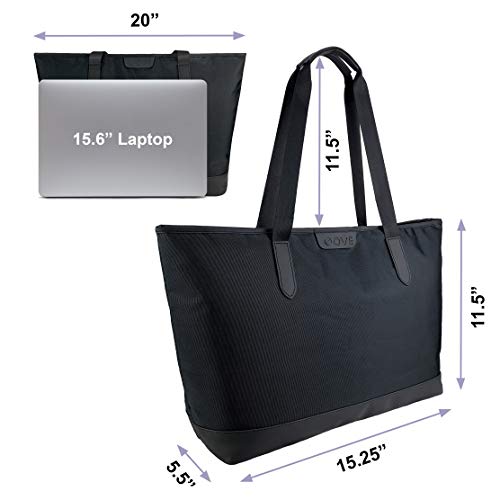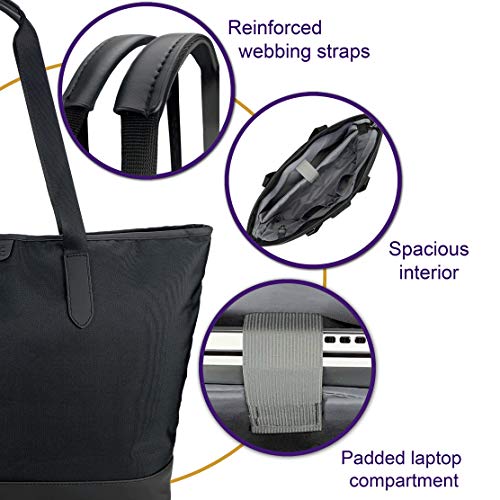 Go to Amazon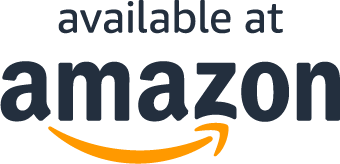 About the product
IDEAL SIZE to be a book bag or a computer bag for college students or teachers, room for all your notebooks, accessories, an umbrella, and a water bottle in addition to tablets, E-books or paperbacks
EXTERIOR DIMENSIONS: 20 x 5.5 x 11.5 inches; Fits 15.6 inch laptop computer in a padded velcro-secured compartment
UNIQUE NYLON WEBBING STRAPS are reinforced with a leather grip for extended durability and comfort as a shoulder bag, handbag or tote purse; designed to last longer than traditional straps
MULTIPLE STORAGE POCKETS including a zippered compartment and pen loops to help organize each personal item such as phones and notebooks enables use as a school bag or a computer bag for women
PREMIUM WATER-RESISTANT EXTERIOR shell is lightweight, durable, easy to care for and designed to protect all of your tech and everyday accessories, such as makeup bags or wallet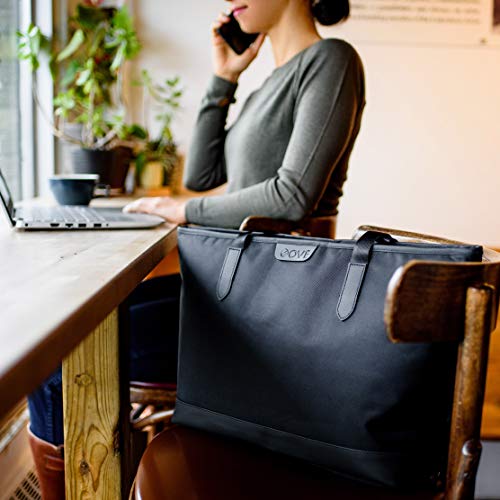 What Our Customers Are Saying
Perfect in every way
I purchased this for someone who lives in the city and takes the train to work every day. They needed something that they could fit all of their things in (laptop, wallet, phone, lunch, etc.), was durable and waterproof and this fit the bill. Really nice design, expensive looking and sturdy, with room to spare. The construction is solid and the design is on point. Able to be carried by a woman or a man. Really great purchase!
Very versatile
This is everything it should be, functional, stylish, and well made. It's not bulky, even with laptop, tablet and regular purse items in it, it can be zipped closed to protect everything from the elements, and to keep safe while traveling to work. Two things I really like about it is that it stands upright when packed, and the material on the handles don't let it slip off my shoulder, even with a winter coat on.I could easily see this being used as a stylish diaper bag.
LOVE this bag!!
LOVE the sleek black look of this bag, and the convenience of all the pockets and the large laptop sleeve to fit even my huge laptop & have so much room for the rest of my things! As someone who walks a mile to work in the cold, snowy, windy Chicago, this really holds up, the quality is so nice and looks beautiful! The straps dont slip and its has withheld the weather! I love how it zips on top so I dont have to worry, and its not too big so I can take anywhere!! And you really cant beat this price!
The great reviews are right on the money!
This bag is exactly as described and all the rave reviews were not wrong. I wanted a bag that I could downsize to from my giant purse backpack I was carrying my yoga clothes in and lunch bag I was taking to work. I was late and down by a lot of bags so I downsize to a crossbody purse that I can place inside of this tote I have my notebooks and my work items in the laptop portion and I can put drinks and lunch stuff in the other side of the divider. This bag is lightweight looks really good on but it's sturdy you can wipe it down and the handles look like they won't Fray. A really great deal for the price and I'm not sorry that I bought it!
I LOVE my new tote bag - perfect for the working mom or even the mom juggling everyday everything!
I just got my bag and I LOVE it! Not only is it fashionable but it is functionable. As a busy mom of four and a teacher I have so many things in my handbag. This tote bag is perfect for my everyday. The section for my laptop keeps it protected and easily accessible. My keys and my phone have their own compartment and there is even a small compartment for my lipstick which makes it easy to find and grab when I quickly need to look presentable. This is the perfect tote bag for the working mom - actually any mom. I would have totally used this as a diaper bag when my kids were babies. The bag is really pretty too and the price is unbeatable. This bag makes a great gift for the ladies in your life. I'm gonna get a few more for Christmas gifts! I totally recommend purchasing this tote!
Perfect size and super durable
This bag is so durable and the perfect size. I bring everything I can into work on weekends because I work two 16 hour shifts. I was using bags i busted the zippers on and that were all stained inside because I bring in pens, markers, candy, bottled drinks, makeup and paperwork, etc... This bag is waterproof, spills wipe right up completely, there's a laptop compartment i now put my paperwork in that doesn't get gunked up from the other compartment with all the stuff i throw into it. With all this stuff it looked ridiculous when i couldn't zipper it but this zipper is so strong and the bag is big enough that this is not an issue. A laptop would be safe because the compartment is padded well. Not a bag I'd use to go out with but Absolutely perfect for work. Like a stylish black tote disguising a diaper bag.
Questions?
Does this include free shipping?