Surprise Holiday Deal

DELUCO 8 Inch Professional Chef Knife
$23.99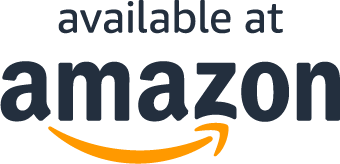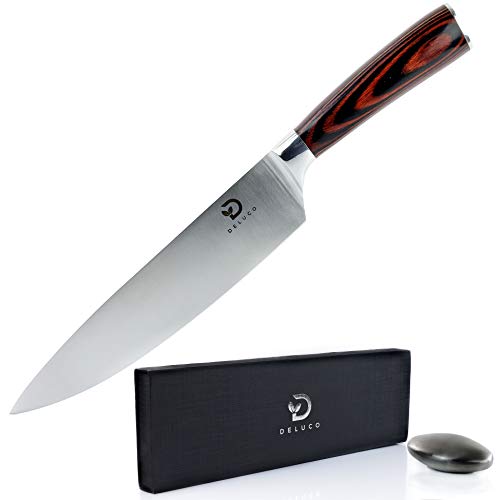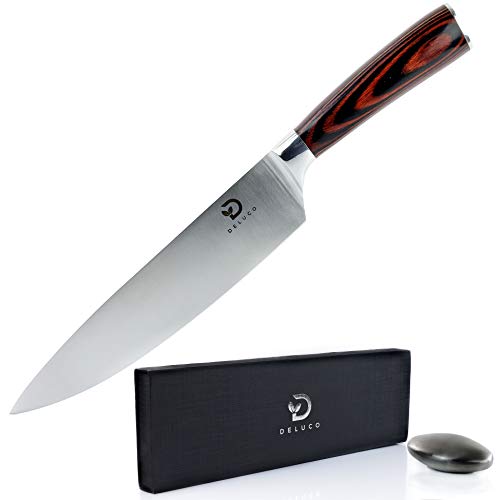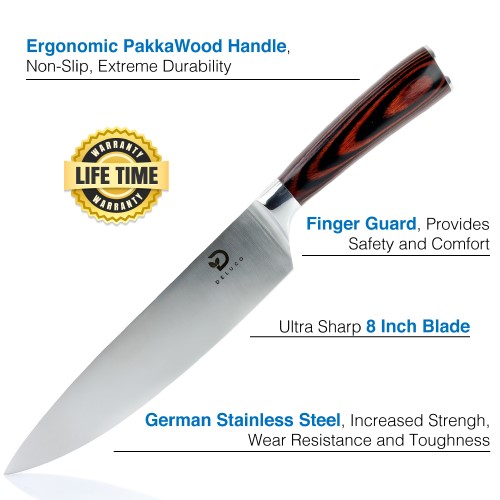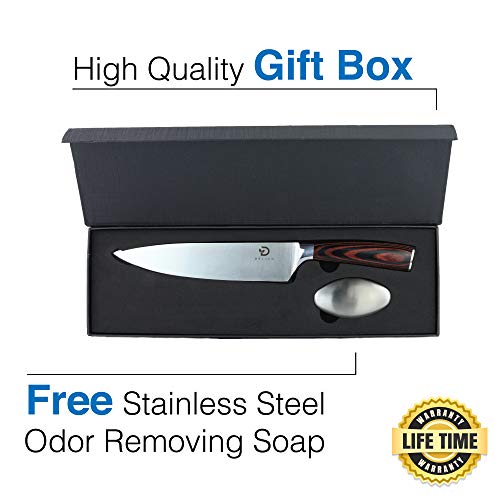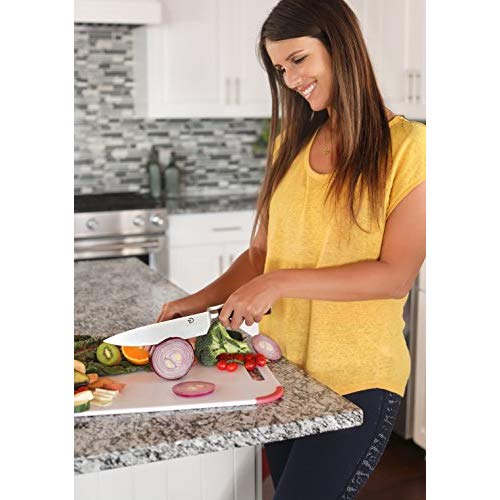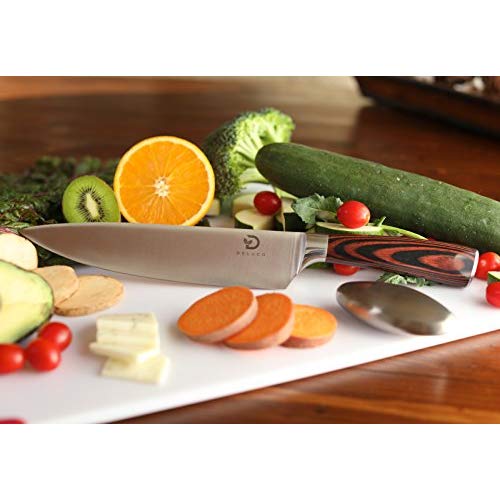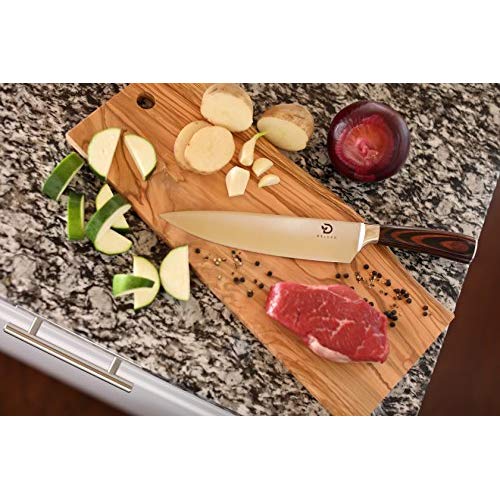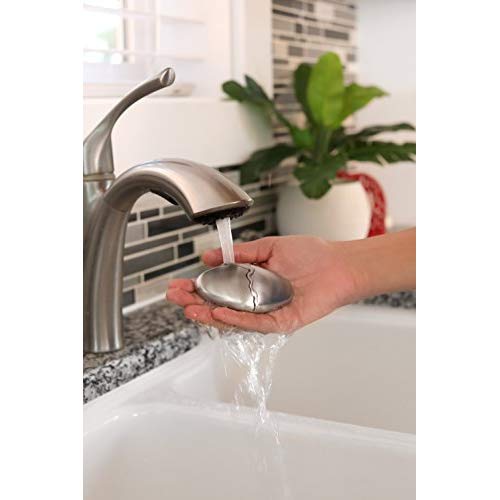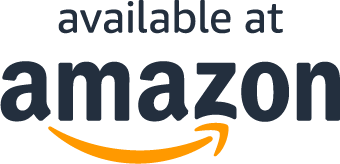 Read More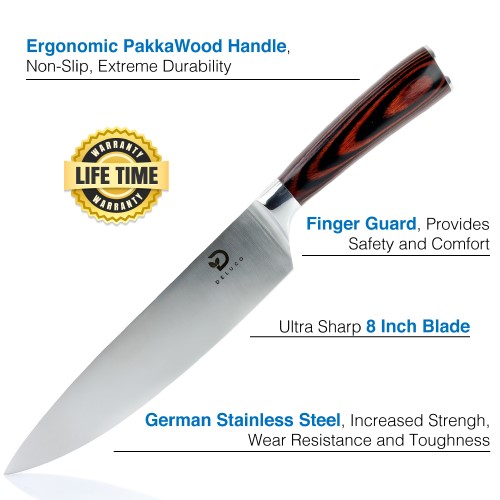 About the product
COOK LIKE A CHEF & WOW YOUR GUESTS - Take your cooking to the next level and impress your friends and family with this professional 8 inch German steel chef knife from Deluco! Comes in a luxury gift box and includes a FREE stainless steel soap bar that effectively removes odors like fish, onion and garlic smells from your hands.
CRAFTED WITH HIGH CARBON GERMAN STEEL - This premium kitchen knife for home chefs is made from the highest quality German stainless steel for ultimate precision and performance in the kitchen. Experience superior balance and control as you prepare your food, thanks to the ergonomic wood pakka handle and a blade that's so razor sharp, it slices through the toughest vegetables and meat like butter.
VERSATILE KITCHEN ESSENTIAL THAT'S BUILT TO LAST - If there's one tool every chef and home cook needs, it's this multifunctional kitchen knife that makes cutting, chopping, slicing and dicing a breeze. Enjoy cooking your favourite Asian, French, Italian, Japanese, Thai or Indian meals and seriously impress your guests at dinner parties. Makes the perfect gifts set for food lovers and budding chefs!
ULTRA SHARP & CORROSION RESISTANT - Time to throw out all your blunt knives that make cooking a dangerous and frustrating experience! This pro-grade chef's knife makes cooking safer because it's razor sharp and therefore way more effective. It is also corrosion resistant and will stay sharper for longer than your ordinary kitchen knifes thanks to the high carbon German steel.
LIFETIME WARRANTY - We are so confident in the superior cooking experience our professional chefs knife will deliver that we offer a lifetime warranty. If for any reason you're unhappy or there's an issue with your knife, we'll provide a full refund or replacement.
What Are You Waiting For?
What Our Customers Are Saying on Amazon
Would make a great gift!
This is a great knife! Great, versatile size - perfect for every day use. Knife is very sharp and can slice tomatoes paper thin. The box it comes in is high quality and includes a honing steel. It would make a great gift and all you would need to add is a ribbon. My husband worked in a professional kitchen and is a bit of a knife snob - even he LOVES it!
Perfectly weighted and SHARP - wonderful to use.
Super sharp! I got this knife last week and have not used another knife since then. From veggies to meat - it does an amazing job. Even tomatoes! It's weighted well - not too heavy like other knives I've tried. The handle is beautiful but more importantly perfectly balanced - it kind of floats in my hand while I'm cutting. Looks like it's well constructed to last a long time. I highly recommend this knife if you're looking for a new chef's knife.
Sharp and pretty too
I didn't realize how bad my knives actually were until this arrived. This thing is sharp! I'd buy from this company again.
Great knife!!
I have had this knife for over a week now and have used it to cut a variety of things, from salami and cheese to cantaloupe and tomatoes. It is very sharp and cuts easily. The handle is is smooth and comfortable to hold. Great quality AND great price!!! I will be using this every day!
Excellent Knife
I have tried out this knife on several items including different veggies and meat. It's very sharp and works well. It's amazing how easy prep work is when you've got a sharp knife to use! The packaging is also very nice and I wouldn't hesitate to send it to a friend as a wedding or housewarming gift.
Fantastic Knife At A Great Price
I was a little nervous when I ordered this for my husband because he's really particular about his knives. He LOVES this knife. The balance and weight are fantastic, and it cuts amazingly well. He already wants another one.
What Are You Waiting For?
Questions?
Why are you running this promotion?
How can I use my coupon on Amazon?
Does this include free shipping?
What Are You Waiting For?