Fearless Menstrual Cup ❤️
Great For Beginner
&   Advance Feminine Cup Users.

- 100 % Medical Grade Silicone

- User friendly, healthier
alternative to tampons

- Save money on Pads & Tampons.

- Convenient, wear your cup
up to 12 hours & overnight!

-So comfortable you won't
even feel It!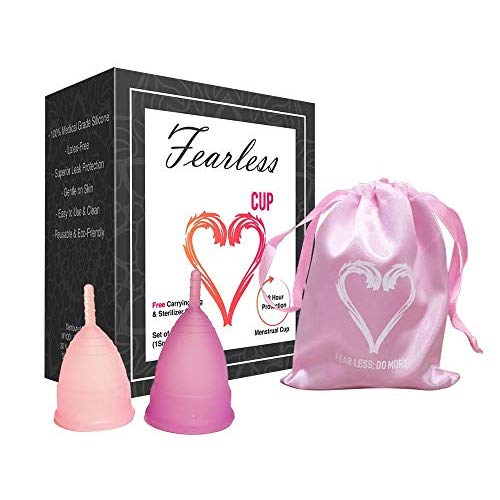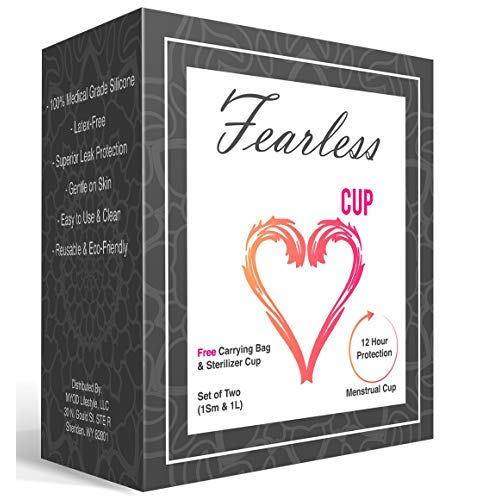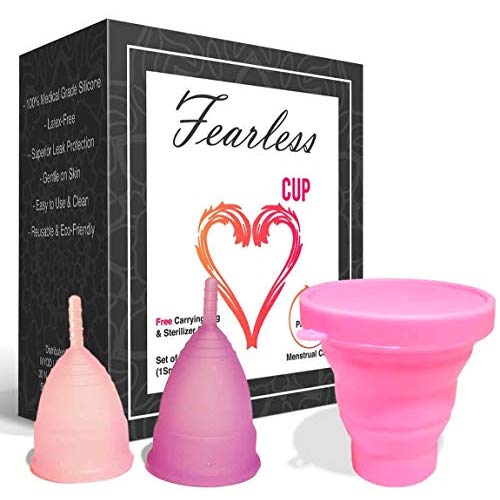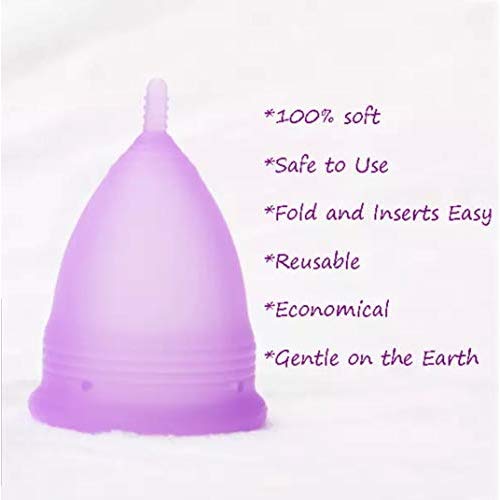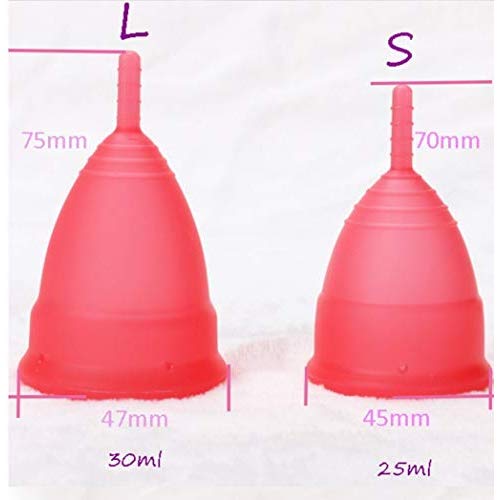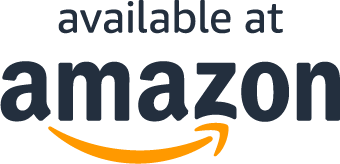 About the product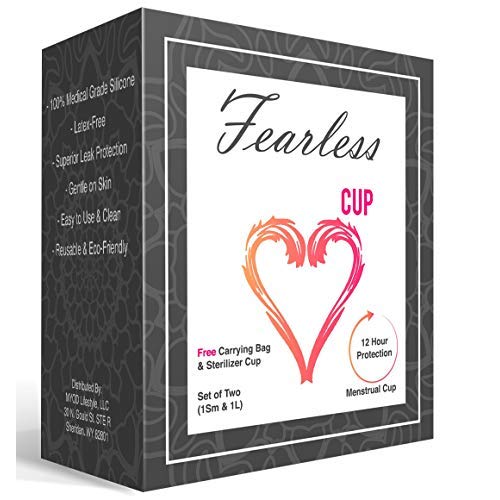 ✔️100% MEDICAL GRADE SILICONE - Widely used in medical care products.
✔️ HYPOALLERGENIC - Free of toxins such as BPA and Dioxin, also Latex Free.
✔️ EASY TO USE & CLEAN - Instructions on how to use and clean are included in the box. Enjoy your FREE sterilizer cup and carrying bag!
✔️ REUSABLE & ECO-FRIENDLY - With proper care, can be used consecutively for 15 years
✔️ SUPERIOR LEAK PROTECTION - With the option of both a small and large unit, you are covered for up to 12hr leak protection.
What Our Customers Are Saying
New product on the line!
I was skeptical about this product due to their not being any reviews. Figured it can't be too bad....seems like a lot product for a small price. The shipment was quick. The box is crisp. Comes with 2 different size cups, a pretty pink bag, and a sterilizer cup. Instructions made simple for beginners! And all the sayings on the box just make me, as a woman, feel strong and confident! Def recommend!!
Easy to use, happy customer
Thankfully, I ordered the cup right on time! I've been using it for a couple days and will gladly leave a 5 star review. I've been a tampon user for 5 years and will never go back! The two sizes are perfect, I use large for my first 4 days and the smaller one on my last 3. They're both super easy to clean and the extra cup for holding really helps. I feel just as mobile with them in as I did with tampons. I feel great knowing I'm helping the environment and it was such an easy switch!
Works as advertised.
Came just in time for my period!! easy to use as stated. Working better than expected! Wore it yesterday for the 12 hour max recommended and didn't have a leak!! Definitely an alternative to tampons. Thank you!!!
Love it!
I've used the Diva cup for years and I needed a new one but wanted to try something cheaper. I love these!!! I'll never go back to the more expensive cups again. The sanitizer cup is so convenient and it's really nice having two cup sizes for heavy or light days.
A "wow" product !
Seriously awesome. Instructions were easy to follow, made from great materials and easy to place and remove.
Easy to use and leakage free!
This was my first time trying a diva cup and it was a great experience!! Easy to use and No leakage at all, highly recommend.
Questions?
Why are you running this promotion?
How can I use my coupon on Amazon?
Which Menstrual Cup size is right for me?
Can I trust the quality of your Product?
Do our Menstrual Cup prevent leakage?
What is included the box?
Does this include free shipping?
What Are You Waiting For?