An Exclusive Offer For You
IT JUST WORKS! Grout-Eez Super Heavy Duty Tile & Grout Cleaner and whitener. Quickly Destroys Dirt & Grime. Safe For All Grout. Easy To Use. 2 Pack With FREE Stand-Up Brush. Clean-eez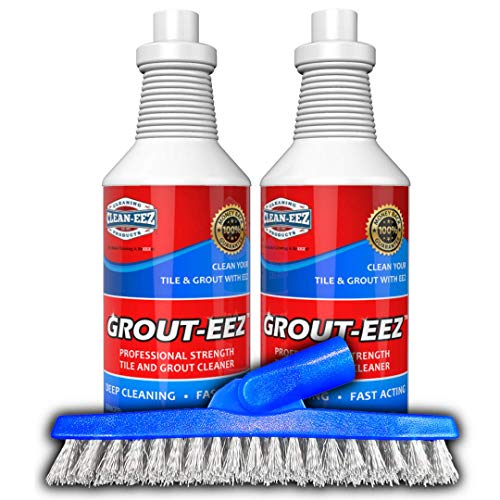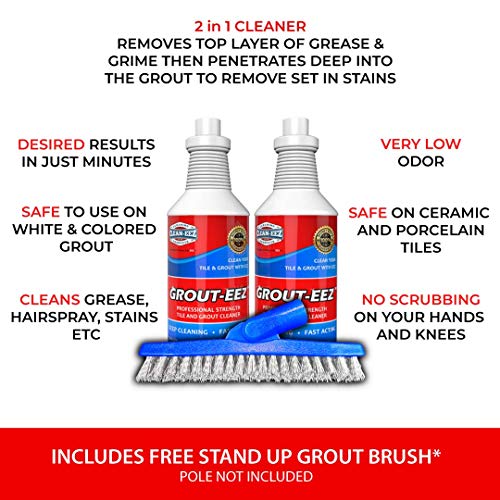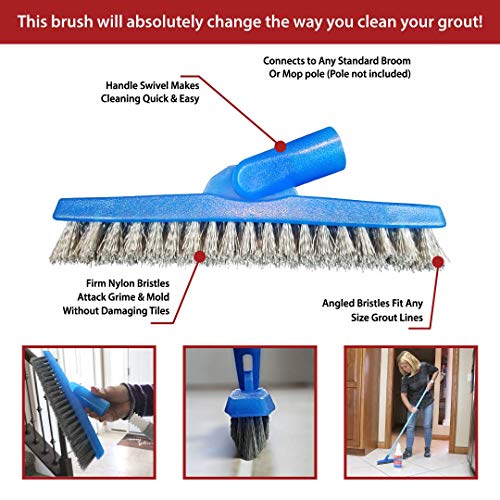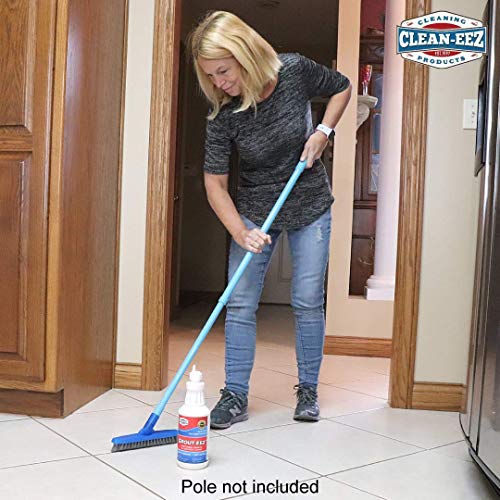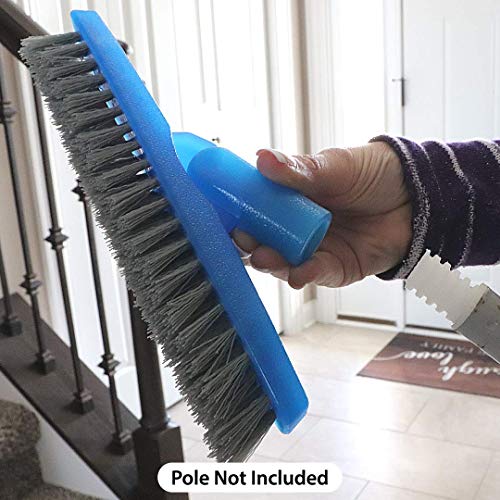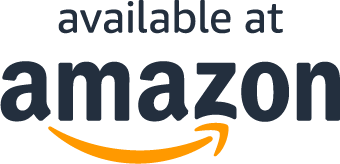 About the product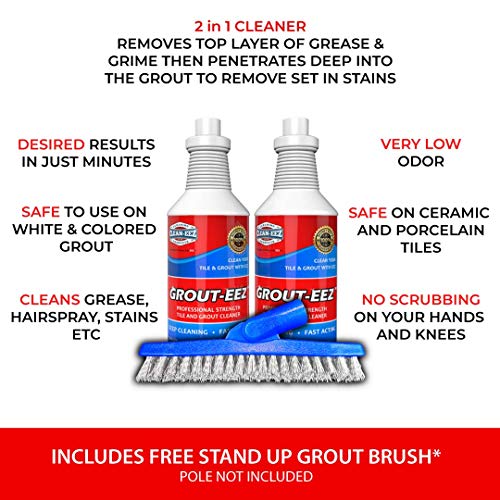 ✔️ Grout-eez tile cleaner is a heavy duty professional strength grout cleaner that will easily remove grease, dirt and stains from ceramic, porcelain and subway tile:You will receive a FREE grout brush when you purchase 2 bottles of Grout-eez; Why get on your hands and knees to clean your grout when you can do it easily while standing up (POLE NOT INCLUDED)
✔️ No more bending down to do your tile grout cleaning: Our grout brush easily attaches to any broom pole you may have in the garage or closet, it is v shaped to fit nicely into the grout line and will easily loosen the dirt and grime when used with Grout-eez
✔️ 1 bottle of Grout-eez will clean approximately 250 sq. ft of tile and grout. So with our 2 bottle special you will have enough to clean approximately 500 sq. ft of tile and grout all without getting on your hands and knees.
✔️ Grout-eez is used by professional grout cleaners throughout the country. Professionals use it for 3 reasons, It's easy to use, it's fast to use and the most important reason it WORKS!
✔️ Save hundreds of $$ using our grout cleaner kit; Grout-eez floor tile cleaner is the easiest and best grout cleaner on the market today GUARANTEED: Comes with our 30 day no questions asked money back guarantee Grout-eez Is Not To Be Used On Natural Stone
What Our Customers Are Saying
Definitely a Keeper for Spring Cleaning - My Grout Lines Look Like New
This is an excellent product. I have tried several grout cleaners over the past 15 years since the majority of our flooring has been ceramic tile. This product surpassed all of them. In fact, nothing has ever worked this quickly. The three best features included (1) the instructions - on both the bottle and with the product - were clear and I followed them to a tee, (2) the perfect brush that came with it that fit perfectly into my grout lines and was easy to attach to a existing handle and (3) how easily the soil was removed from the grout. I would recommend using this around one tile first - and definitely wait the 10 minutes - then wiggle the brush in the grout lines. The soil comes up quickly. After each area was finished, I used a wet towel and rinsed the area and then started on the next section. And, based on another reviewer's suggestion, I used my Swiffer Wet Jet when I was finished. I used one full bottle for my kitchen, breakfast area, foyer, master bath and hallway. And, when the floor was dried, the grout lines looked like the day we bought the house. I attached the grout lines before, during and after it tried.
It REALLY does just work!!!
We had an appointment set up for one of the nationwide service companies to come out and clean and reseal our grout. We have somewhere between 900 and 1000 square feet of 12' tiles. We were told that it would be somewhere just over $1000 to do so; if we weren't happy with how clean it was, they would have to go over it again increasing the price. Fortunately for us, they had technical difficulties just before they were to arrive and rescheduled our appointment, we were going to have to wait 10 more days for them to show up. We decided to do a little more research and we found this product, we ordered 4 bottles and got it the very same day that we ordered it. We tried it in the kitchen this morning, just to see how it works - IT WORKED GREAT!. The grout in front of our kitchen sink was very dirty - we were amazed at how well it worked. I read in other reviews how it was difficult to get all of it rinsed off, I rinsed it twice with a grout sponge and plenty of water. I finished it off with my Shark Crosswave to dry it more thoroughly. We are really pleased with the outcome. It will most likely take us several days to do all of our tile because we aren't as young as we used to be. We highly recommend this product.
Great product!
Great product!!!!! I hate to clean, but Was excited to receive this product. When we bought our home the grout was in bad shape. I started cleaning it with another product and was working my backside off. Not a bad thing but it was a lot of work. As soon as I received this product I got started. Have to say a lot less work and easy to use. Works wonders and may have to buy more to finish the whole house. Great product!!!!!
It Works
I followed the directions, let it soak in for 7-10 minutes and then lightly scrubbed with the included brush. It cleaned the grout very well. The biggest part of the job is rinsing the cleaner off of the floor. I used a large microfiber towel. Also, after the floor was dry, I put sealer in a grout bottle and ran it down the grout lines. It's still a chore, but this product and brush saved me some work.
An excellent new product that actually works
An excellent new product that actually works! After watching the You Tube video from the floor guys I applied Grout-eez. I followed the instructions from the video and 17 year old floors look new. I did not have to get on my hands and knees and scrub the grout like I have done in the past. The brush that is included easily attached to my broom's handle. Plus the grout is cleaner than when I actually cleaned the floors on my hands and knees. There was no obnoxious order to contend with like bleach. The price was minimal especially since my neighbors called a floor cleaning company to clean her tile. She paid "big bucks" for what I did in minutes and for a fraction of her cost. The kicker is my grout looks cleaner, she is not very happy but next time she is going to try Grout-eez.
Questions?
Why are you running this promotion?
How can I use my coupon on Amazon?
Does this include free shipping?
What Are You Waiting For?